Rape and Coverup at an International School in Tokyo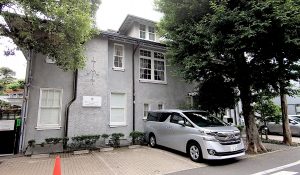 SNA (Tokyo) — Nishimachi International School in the Moto-Azabu district of Tokyo is finally coming clean after a decades-long coverup of sexual misconduct, including a now well-documented allegation of the rape of a 13-year-old female student by the former vice-principal who effectively ran the school in the late 1970s.
The international law firm of Jenner & Block was retained by the current school administration in May 2018 to investigate allegations against former teacher and Vice-Principal James "Jim" Hawkins of the United States, as well as any other teacher whose past conduct merited scrutiny. After a nine-month investigation poring over more than 3,000 pages of documents and interviewing dozens of witnesses, Jenner & Block found that "Mr. Hawkins engaged in a pattern of inappropriate conduct with multiple female students during his tenure at Nishimachi, which had damaging and lasting effects on each of them."
Moreover, after Taneko Matsukata—founder and principal of the school, as well as the granddaughter of former Prime Minister Masayoshi Matsukata—began to become aware of Hawkins' behavior in the late 1970s, she decided to effectively cover it up, going so far as to provide him with positive recommendations for his later efforts in the United States to gain jobs in the educational field.
The 56-page Jenner & Block report documents in considerable detail Hawkins' pattern of predatory behavior, finding favorites among the female students under his care, beginning first with compliments and the showering of special attention upon them, then later progressing towards the forging of opportunities to be alone with them and increased physical contact.
The single worst documented case involved a 13-year-old female student whom he "pressured" to have sex with him once or twice a month for over a year. At one point, Hawkins, who was married, became "very concerned" that he may have gotten the student pregnant and drove her to be examined by a doctor as he waited in his van outside. While the doctor found that she wasn't pregnant, the former student told the investigators that "it was her impression that Mr. Hawkins would have expected her to have an abortion that day if she had been pregnant."
The report makes clear that Hawkins' inappropriate emotional and physical relations with his favorites was not entirely hidden from the rest of the teaching staff. However, most of them chose to simply look the other way. Even in a case when a female student directly reported to another teacher that she had become scared of Hawkins' advances, absolutely nothing was done.
In part this may have been because Hawkins was by the late 1970s the dominant figure in the school, as Ms. Matsukata had become more of a figurehead. Witnesses recalled that "Mr. Hawkins accrued power within the school, including hiring and supervising other teachers. One contemporary of Mr. Hawkins said that he was 'very much in charge' of the middle school and described a 'cult effect' around him, referring to a power dynamic in the school with Mr. Hawkins at the center. Students echoed that statement, likewise using the word 'cult' to describe a following around Mr. Hawkins."
Hawkins left Japan in July 1980 to attend graduate school in the United States, with the apparent intention of returning to Nishimachi a few years later. However, rumors and accounts of his misbehavior had been circulating, and it seems that by around 1982 Matsukata had taken the decision that he wouldn't be welcomed back as a teacher.
Nevertheless, the coverup continued, so that nothing was done to protect students at the schools where Hawkins would teach in the future, and even the succeeding generations of administrators and teachers at Nishimachi were not told in detail about the dark side of Hawkins' tenure. In 1999, Nishimachi paid Hawkins travel expenses to attend the 50th anniversary celebrations at the school. "Teachers and graduates recalled additional visits to the school that began in the 1980s and continued until as recently as 2015 or 2016," the report notes.
As part of its findings, the Jenner & Block report states: "The lack of oversight over Mr. Hawkins and the outsized role he played in the school, combined with the lack of training, policies, and procedures with respect to student protection, provided no meaningful check on his predatory behavior."
Hawkins was not the only teacher at Nishimachi that was investigated for sexual misconduct. The previously known case was that of Richard Biddick, convicted in the United Kingdom of drugging and abusing an 11-year-old boy in 2016. Biddick was a Nishimachi teacher in the 1980s, but the investigation did not discover any misconduct on his part while in Japan. Nevertheless, another teacher did find a package addressed to Biddick after he left Japan that contained photos of naked boys. At the time the other teacher didn't make anything of it and simply threw away the photos.
It was only in 2015 that Nishimachi International School began the process of coming clean about its past and to establish genuine student protection policies. The release of the Jenner & Block report to the parents and alumni on April 30 of this year is a major step towards airing out the painful past record of the sexual abuse of students.
Head of School Michael Hosking stated in the accompanying letter to the parents and alumni that, "On behalf of the School, I sincerely and deeply apologize to those students who suffered abuse during their time at Nishimachi International School. Our students should be respected, protected and supported, and Nishimachi is profoundly regretful that we now know this was not always the case."
He added, "To support survivors of sexual misconduct that occurred while they were students at Nishimachi, we entered into an arrangement in September 2018 with RAINN (Rape, Abuse & Incest National Network) to set up the Nishimachi Therapy Fund, a referral and reimbursement program for survivors who wish to obtain professional counseling. Survivors of sexual abuse that occurred while they were attending Nishimachi may obtain counseling at no cost, whether or not they have spoken to the investigators."
Despite the recent improvement in the school's policies, it remains the fact that, as the Jenner & Block investigation discovered, "the female students subjected to Mr. Hawkins's misconduct exhibited a range of reactions, both in contemporaneous writings and during their recent interviews, the investigative team finds that multiple students endured tremendous pain as a result of Mr. Hawkins's actions. Students reported feelings of stress, anxiety, shame, confusion, frustration, and hurt during their time at Nishimachi. For some students, those feelings persisted for many years and continue to the present day. Even in cases where Mr. Hawkins did not engage in sexual contact, the inappropriate emotional closeness sought from students by a powerful authority figure affected some of them profoundly—and negatively."
Get the feeling that your news services aren't telling you the whole truth? That's what happens when they get their operating money from governments and business corporations. SNA relies exclusively upon its subscribers in order to remain fully independent. Please support fearless and progressive media in Japan through Patreon.
Become a Patron!
For breaking news, follow on Twitter @ShingetsuNews