Poll Shows Abe Cabinet Sinking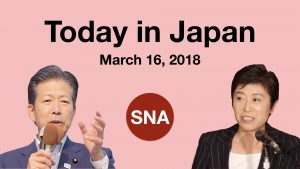 SNA (Tokyo) — The following stories were reported today by the Shingetsu News Agency.
The Top Headline
—The first major poll since the Moritomo Gakuen forgery become clear shows Abe Cabinet approval plummeting more than nine points. Disapproval has risen slightly higher than the approval rate. This poll does not yet reflect all of revelations that tumbled out this week.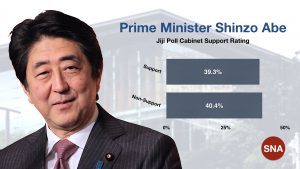 Moritomo Gakuen Scandal
—Finance Ministry admits that Nobuhisa Sagawa was among those who "knew of" the forgery of Moritomo Gakuen documents, which was carried out in part to make the paper trail seem consistent with what Sagawa was saying to lawmakers in Diet testimony.
—Finance Ministry official Toshio Akagi's suicide note: "Some parts of the documents were too detailed, and my boss forced me to rewrite it. If this continues, I will be forced to bear all the responsibility by myself." Now his death definitively linked to Moritomo Gakuen coverup.
—Moritomo Gakuen scandal clearly reducing Prime Minister Shinzo Abe's authority to dictate to the ruling Liberal Democratic Party how Article Nine of the Constitution should be revised. As Abe sinks in his self-made scandals, the party is regaining some of its previous power.
—Constitutional Democratic Party of Japan to begin demanding that Saeko Tani, a METI official who had been assigned to work under Akie Abe, also be made to testify before the Diet on the Moritomo Gakuen case.
—Mainichi Shinbun: Osaka prosecutors have determined that the estimate of the amount of garbage that needed to be removed from the Moritomo Gakuen land site (which was the basis of the steep discount on the sale price) was, in fact, a fraud, as many have suspected.
—Komeito still backing government's refusal to have First Lady Akie Abe testify before the Diet regarding the Moritomo Gakuen scandal.
—Finance Ministry officials reportedly involved to encouraging a private company to give a false assessment of the amount of garbage at the prospective Moritomo Gakuen school site, in order to justify giving the rightwing school operator a major discount on the land price.
—This report sounds a little shaky, but worth mentioning. Another Finance Ministry official committed suicide in Tokyo in January. He apparently had no direct involvement in Moritomo Gakuen cover-ups, but it's pointed out that Diet discussions on the issue were rising at the time.
—Board of Audit to reinvestigate the Moritomo Gakuen land sale now that the Finance Ministry forgery has become public knowledge. Board of Audit learned last year that there were two sets of documents but chose to keep quiet and pretend the original documents were irrelevant.
—Taro Aso repeats that he has no intention of resigning as Finance Minister.
—Police reportedly taking heavy-handed "crowd control" measures near the Prime Minister's Office this evening as anti-Abe protesters brave the rain to call out the Moritomo Gakuen scandal. Police have apparently blocked off some subway exits.
—Osaka Governor Ichiro Matsui says that the re-flaring of the Moritomo Gakuen scandal probably brings an end to any serious effort to revise Article Nine of the Constitution in the near future.
—Finance Ministry Financial Bureau Director-General Mitsuru Ota comes close to admitting in the Diet that Moritomo Gakuen documents were forged not to protect Nobuhisa Sagawa, but under pressure regarding the expressed views of Prime Minister Shinzo Abe.
—Mainichi Shinbun Editorial: "The Prime Minister's Office wields great power, including in the personnel choices of government ministries and agencies. It is hard to imagine that Sagawa would speak in the Diet of his own accord on a problem that would affect the administration."
Politics
—Ministry of Education persecuting Kake Gakuen scandal whistleblower Kihei Maekawa, demanding to know exactly what he is teaching students at a school in Nagoya where he is working. Central government officials do not ordinarily demand information on individual courses.
—The Kihei Maekawa story is even worse than we thought. The Education Ministry apparently criticized the Nagoya school in phone calls for inviting Maekawa to speak, and they repeated Yomiuri Shinbun slanders about Maekawa visiting girlie bars in Shinjuku for nefarious reasons.
International
—Amnesty International points out that the Abe government may be scheduling Aum Shinrikyo executions for the sake of maintaining a convenient news cycle.
—Prime Minister Shinzo Abe and South Korean President Moon Jae-In hold a 45-minute phone call. Moon reportedly stresses the need for Japan to improve its relationship with North Korea as an important step toward regional peace and stability.
—Two major polls out today regarding the leaders who held phone call: Shinzo Abe (39% approval, 40% disapproval); Moon Jae-In (74% approval, 18% disapproval).
—Gallup Korea finds that among the South Korean population Kim Jong-Un is twice as popular as Shinzo Abe; that is, 10% feel positive about Kim versus 5% who have a positive view of the Japanese leader.
Economy
—Bank of Japan board appointments have been confirmed by the Diet.
—TEPCO renewing its plan to try to build a new nuclear power plant, the Higashidori plant in Aomori Prefecture. The insistently pro-nuclear Abe government is encouraging the move from its position as the company's main shareholder.
—Courts rejecting contention of Abe government and TEPCO that 3.11 tsunami couldn't have been predicted. Evidence shows that TEPCO itself knew that there was such a risk five years earlier but chose not to reinforce Fukushima Daiichi facility because it would cost some money.
—Kyushu Electric Power Company planning to restart the Genkai No. 3 nuclear reactor in Saga Prefecture on March 23.
—US President Donald Trump again criticizes Japan's non-tariff barriers in his peculiar fashion, claiming that bowling balls are dropped on US cars and then Japanese inspectors reject them. "It's horrible the way we're treated. It's horrible," Trump remarks.
—Unspeakable Miki Watanabe, now a ruling party politician, formerly the founder of the Watami restaurant chain, dismisses the criticisms of family members of people who died from overwork: "Listening to their accounts, it seems that seven day a week holidays are best for humans."
Society
—Government bans companies from using foreign "trainees" from being sent to Fukushima to do radiation decontamination work. Apparently, there have been several cases of subcontractors using foreigners in this manner.
—Abe government to allow the right to plea bargain in judicial cases beginning from June 1.
For breaking news, follow on Twitter @ShingetsuNews