Japan Not Amused by Steel Tariff Threat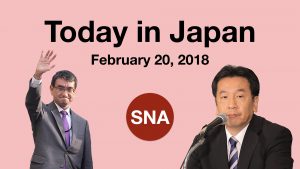 SNA (Tokyo) — The following stories were reported today by the Shingetsu News Agency.
The Top Headline
—Japan Iron and Steel Federation Chairman Kosei Shindo slams US Commerce Department tariff threats: "The recommendations violate the principles of free trade, which are the foundation for development and prosperity of the global economy." Moreover, METI Minister Hiroshige Seko publicly rejects argument coming from the Trump Administration that putting tariffs on imports of Japanese steel is somehow a US national security issue.
Politics
—Fumio Kishida disputes speculation that he won't be running against Shinzo Abe in this September's Liberal Democratic Party leadership race. He suggests he'll be making his decision on candidacy after the FY2018 national budget is passed through the Diet.
—Shigeru Ishiba presents his own Constitution revision plan, which would eliminate the second paragraph of Article Nine and permit Japan to have land, sea, and air self-defense forces. Ishiba explains these forces are needed to "protect the nation's independence."
—Tetsuma Esaki, Minister of State for Okinawa and Northern Territories Affairs, has been hospitalized after suffering what is being called a "mild stroke." He is 74 years old.
—Social Democratic Party rejects idea of seeking to merge into the Constitutional Democratic Party of Japan. Apparently, they are determined to run their four-lawmaker party into oblivion, alone to the bitter end and without a strategy.
—Constitutional Democratic Party of Japan decides to make the position of party president particularly powerful. The party president will be given the final word even on such matters as candidate selection and ordering in the proportional segment of elections.
—Democratic Party proposes three-party executive meeting with Constitutional Democratic Party of Japan and Party of Hope. Once again, Constitutional Democratic Party of Japan rejects their embrace, says they still aren't interested in any unification schemes or similar nonsense.
For breaking news, follow on Twitter @ShingetsuNews