Moon Decelerates on North-South Summit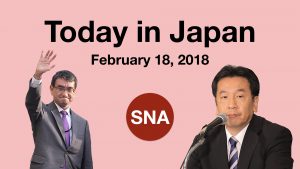 SNA (Tokyo) — The following stories were reported today by the Shingetsu News Agency.
The Top Headline
—South Korean President Moon Jae-In: "There are high hopes for a North-South summit but I think it is a bit rushed… We are waiting for the current inter-Korean talks to lead to dialogue between the United States and North Korea, and to denuclearization."
Politics
—Liberal Democratic Party wants a revision to Article 47 of the Constitution to enshrine the overrepresentation of rural districts over urban populations, to ensure their anti-democratic advantages can no longer be challenged in the courts.
—Fumio Kishida may have decided NOT to run against Shinzo Abe for the leadership post in September. Comments of support he made at a political party yesterday suggested that he expects Abe to remain prime minister next year.
—Shigeru Ishiba criticizes the authoritarian style of Prime Minister Shinzo Abe, saying he routinely ignores opinion within the ruling Liberal Democratic Party. "He sometimes ignores what has been built up within the ruling party and then declares 'This is what I will do.'"
International
—Abe's handpicked new ambassador to the United States, Shinsuke Sugiyama, tells media that going around North America demanding that memorials to Comfort Women be removed is one of his top diplomatic priorities. Well, we certainly can see why Abe picked him then.
—US Secretary of State Rex Tillerson: "My job as chief diplomat is to ensure that the North Koreans know, we keep our channels open… I am listening. I am not sending a lot of messages back because there's nothing to say to them at this point. So I am listening for you to tell me you are ready to talk."
—Sankei Shinbun cuts a month's pay from Naha bureau chief as punishment for running false article about a US soldier it said had rescued an Okinawan motorist. This false report was then used for an over-the-top attack on the two major Okinawan newspapers.
—In what passes for diplomacy in Abe's Japan, a statement is extracted from Latvia (yes, that tiny state in the Baltics) agreeing to put maximum pressure on faraway North Korea. Guess the Latvians figure, "Hey, sure, whatever makes you happy and all!"
Economy
—US Commerce Department recommending new tariffs on steel and aluminum, including on Japan.
Society
—In a typical Abe Era move, it seems that the name for new era following Heisei will be kept secret until as late as possible in order to give the public as little chance as possible to comment upon it before it is imposed.
—Governor Yuriko Koike has so far failed to make Tokyo smoke free, as she had earlier promised, but from April 1 at least the Tokyo Metropolitan Government Building will become smoke free.
Note: There was no separate "Today in Japan" report issued on February 17.
For breaking news, follow on Twitter @ShingetsuNews