Pence's Boorish Behavior in Pyeongchang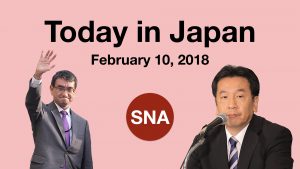 SNA (Tokyo) — The following stories were reported today by the Shingetsu News Agency.
The Top Headline
—The Trump Administration, almost never missing an opportunity to embarrass the people of the United States on the world stage, sends Vice-President Mike Pence to Pyeongchang, where he repeatedly insults his hosts and stands only for the American team. Prime Minister Shinzo Abe, to his credit, acts in a polite fashion despite his problematic policy positions.
Politics
—Kyoto gubernatorial race set for April 8. The establishment parties are lining up behind former Land Ministry bureaucrat Takatoshi Nishiwaki. This continues the trend of elite bureaucrats somehow dominating Japan's gubernatorial offices.
—Tadatomo Yoshida does not deny the possibility that the Social Democratic Party might be absorbed into the Constitutional Democratic Party of Japan in the future.
—Talk growing that after the conservatives split off from the Party of Hope, the Yuichiro Tamaki-led main group will seek a merger with the Democratic Party, where most of them came from some months ago anyway.
—Prime Minister Shinzo Abe now on his way back to Japan after his attendance at the opening ceremonies of the Pyeongchang Winter Olympics.
International
—Hardline US Admiral Harry Harris' expected political career likely to begin as the US Ambassador to Australia. Harris has courted rightwing support through his antagonism toward China and using his military position to send public messages critical of Colin Kaepernick.
—Vice Admiral John Aquilino selected at the next Commander of the US Pacific Fleet, which is based in Hawaii.
—Defense Minister Itsunori Onodera visits Kanzaki city, Saga, and apologizes to the mayor for the Ground Self-Defense Forces helicopter crash, which landed on a house in a residential area.
Economy
—Supreme Court orders hotel operator to pay about US$57,000 in NHK subscriber fees. The operator had refused to accept that they are compelled to subscribe to NHK, and so the public broadcaster had sued them. Supreme Court has also backed NHK against individuals who own TVs.
—US Vice President Mike Pence used his meeting with Deputy Prime Minister Taro Aso to renew the Trump administration's push for a bilateral trade agreement. So far, Japan has held the line and refused to be drawn into such negotiations.
—In what is not much of a surprise, Prime Minister Shinzo Abe to reappoint Haruhiko Kuroda, 73, to a rare second term as Governor of the Bank of Japan.
Society
—The flu epidemic is Tokyo is reaching record levels, with type A and type B hitting simultaneously. We know it well because it has hit the SNA office as well. That's why we have not produced our usual "This Week in Japan" report yet. It may still be a few more days until we do.
For breaking news, follow on Twitter @ShingetsuNews