Major GSDF Helicopter Accident in Saga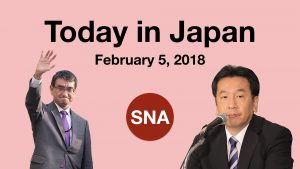 SNA (Tokyo) — The following stories were reported today by the Shingetsu News Agency.
The Top Headline
—Ground Self-Defense Forces helicopter crashes in the city of Kanzaki, Saga Prefecture. It crashed into a house near a kindergarten, but no one on the ground seems to have been hurt. Two helicopter crew members have reportedly been killed however. Parliamentary Vice Minister of Defense Keitaro Ohno sent to Saga Prefecture to handle the fallout, and the GSDF suspends operations of all helicopters of the same model as crashed in Saga Prefecture (Boeing AH-64 Apache), and conducts full inspections of the equipment. Although a completely different aircraft, the GSDF helicopter accident in Saga thought likely to have major impact on the prefecture's willingness to accept proposed deployment of Osprey aircraft to Saga Airport. The dangers of military aviation brought home to the local people.
Politics
—Yukio Edano beats back yet another attempt by Democratic Party to push a merger on the Constitutional Democratic Party of Japan. They want to jointly select candidates for the 2019 House of Councillors elections. Edano says no.
—Although the whole point of the Shinsei Aichi local party is to allow Democratic Party and Constitutional Democratic Party of Japan candidates to run under the same umbrella, it seems that, once again, Constitutional Democratic Party of Japan isn't interested in that scheme.
—This month Akahata, the newspaper of the Japan Communist Party, reaches its 90th anniversary. No other political party except perhaps Komeito has its own full-scale newspaper, and Akahata is by far the oldest.
—Prime Minister Shinzo Abe says he will make efforts to ensure his wife Akie "exercises self-control about her activities" in light of Moritomo Gakuen Scandal. She had agreed to become an Honorary Principal for Yasunori Kagoike, and the prime minister suggests that was Akie's doing.
—Finance Minister Taro Aso insists that it is no problem that National Tax Agency chief Nobuhisa Sagawa continues to refuse holding press conferences or face the media. It's okay, he suggests, for Sagawa to run from any journalists' questions about his Moritomo Gakuen testimony.
International
—Constitutional Democratic Party of Japan Secretary-General Tetsuro Fukuyama issues statement on Nago mayoral election, expressing regret at Inamine defeat: "We will strengthen our efforts to create 'bottom-up politics' and will soon establish our prefectural chapter in Okinawa."
—Prime Minister Shinzo Abe says that Taketoyo Toguchi's election as Mayor of Nago means that Henoko base building plan will go forward. He is taking the election as an endorsement of his base-construction policy. He also hints that he didn't actually believe Inamine would lose.
—Resistance is futile. Japanese media interviews with Nago residents find most still oppose the Henoko base, but they lost hope that anything would stop the Abe steamroller. As a result, they want the new mayor to focus on improving business prosperity, more than Inamine did.
—Speaking of Taketoyo Toguchi's election victory in Nago, Prime Minister Shinzo Abe cannot give up his disingenuous ways: "By obtaining the understanding of citizens, we'd like to proceed with base construction in line with the Supreme Court ruling."
—Liberal Democratic Party already discussing turning on the taps of central government subsidies for Nago city now that the local people have obeyed Abe government demands and elected a pro-base mayor.
—Okinawa Governor Takeshi Onaga: "It remains the reality that the national government hasn't given a single thought to the opinions of the Okinawan people. Prime Minister Abe has not won the understanding of the people and so has nothing to be proud about."
—Here's what the mainstream media and political leaders won't tell you: Exit polls of Nago voters found that opposition to the construction of the US Marine airbase at Henoko is still at almost 2/3 of the public. The Toguchi victory was largely related to local economic issues. The exit polls also showed that about half of the Nago voters said they had a top policy priority other than Henoko base, mainly related to employment, healthcare, and economic development.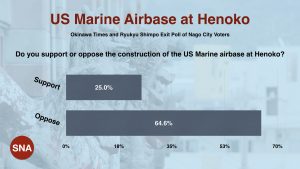 —Abe government protests as the united Korean flag used for the Pyeongchang Winter Olympics uses a map of Korea including the disputed Dokdo-Takeshima.
For breaking news, follow on Twitter @ShingetsuNews