Anti-Base Movement Defeated in Nago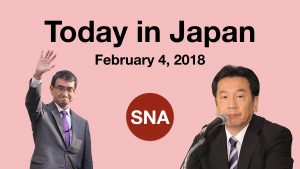 SNA (Tokyo) — The following stories were reported today by the Shingetsu News Agency.
The Top Headline
—Taketoyo Toguchi wins Nago mayoral race, a big victory for the Abe government and major blow for Okinawa Governor Takeshi Onaga and the anti-base movement. In his Ryukyu Broadcasting Corporation interview, defeated Mayor Susumu Inamine can barely speak. He says he takes the verdict of the Nago citizens seriously, and that his campaign was based on both peace and economic development. Final Result: 20,389 (Toguchi); 16,931 (Inamine). The voter turnout was 76.92%.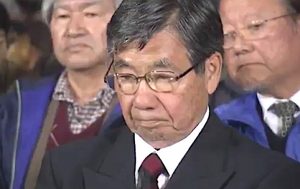 Politics
—Democratic Party held their full convention today, pledging themselves to a new middle-of-the-roadism. You know what else is in the middle of the road? Roadkill.
—Leader Kohei Otsuka suggests that Democratic Party will have to change its name in the near future in order to underline their new start and regain public support.
—Hodo Nakamura easily reelected to third term as Governor of Nagasaki Prefecture, overcoming a single Japan Communist Party challenger.
—Abe government ally Tsugumasa Muraoka (the only government in Japan who is formally a Liberal Democratic Party member) is reelected as Governor of Yamaguchi Prefecture. He also faced a single candidate who couldn't put up much of a challenge.
International
—Prime Minister Shinzo Abe to demand US-South Korean military exercises threatening North Korea resume at full scale after the Pyeongchang Winter Olympics. Abe is desperate to spike any hopes of a reduction in war tensions as he attempts to scare the Japanese people into Peace Constitution revisions.
—North Korea Foreign Ministry denounces "Trump-style arrogance, arbitrariness, and self-conceit." It continues, "The whole world is deeply concerned, seeing as an omen of new disaster the address of Trump who asserts 'America First' and 'unmatched power' based on nuclear weapons."
For breaking news, follow on Twitter @ShingetsuNews