Japan Tobacco Wins Again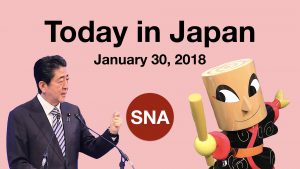 SNA (Tokyo) — The following stories were reported today by the Shingetsu News Agency.
The Top Headline
—Japan Tobacco lobby strikes again? Apparently, Governor Yuriko Koike and her allies have quietly dropped their much-advertised plan to pass a major anti-smoking ordinance in Tokyo as part of public health policies and Olympics preparations. The Health Ministry, too, now seems to be in full retreat, proposing to the Liberal Democratic Party that small restaurants (not yet defined) be completely excluded from the smoking ban. Earlier attempts to have a more serious anti-smoking law now seem to be off the table. Meanwhile, leader Natsuo Yamaguchi declares that the Number One priority for Komeito in the current Diet session is to pass the anti-smoking bill, even if it has been drastically weakened by Liberal Democratic Party and tobacco lobby resistance.
Politics
—Party of Hope calls for Economic Revitalization Minister Toshimitsu Motegi to resign as a lawmaker (not simply as a minister) over "Osenkogate," his possible violation of election laws by distributing funeral incense sticks to constituents.
—Osenkogate gets a bit more serious for Economic Revitalization Minister Toshimitsu Motegi as he now admits that he may have violated election laws by distributing House of Representatives notebooks to some of his constituents as well.
—Oops! Prime Minister Shinzo Abe commits gaffe in Diet debate: "We wish to maintain the minimum war-making capability allowed under the Constitution." Did Abe just say "war-making" capability? He quickly corrects himself to say "practical abilities."
—In series of rulings, Japanese courts accepting elections with less than a 2-to-1 discrepancy in the weight of individual votes as being within the terms of Constitution.
—In Diet questioning, Prime Minister Shinzo Abe denies that he is friends with the former TBS journalist who allegedly raped Shiori Ito. He says Noriyuki Yamaguchi is a journalist who has interviewed him several times, nothing more, nothing less.
—In a big move, the All-Japan Prefectural and Municipal Workers Union (about 810,000 members) has decided to offer political campaign support to the Constitutional Democratic Party of Japan, not waiting for the more conservative Rengo executives to make their own policies.
—Democratic Party to officially recognize that it was "a mistake" to agree with former leader Seiji Maehara to disband the party and join the Party of Hope in the run up to the October 2017 House of Representatives elections. (These guys are really quick of mind, aren't they?)
—Party of Hope leader Yuichiro Tamaki meets with a group of women who have given birth while serving as national lawmakers. This is part of an effort to bring gender equality to Japanese politics (which is lagging behind most other nations).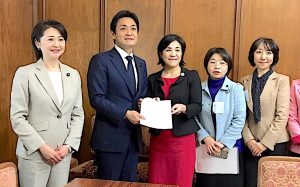 International
—Rightwing Lies: Ryukyu Shimpo calls out the rightwing Sankei Shinbun for fabricating a story about a US military man rescuing a local Okinawan from a car accident in order to pour scorn on Okinawa's news media for their alleged "silence" on US heroism.
—Asahi Shinbun polling encouraging for anti-base incumbent Susumu Inamine. These results are almost exactly the same as four years ago when he received close to 56% of the vote against his challenger. The X factor is those who oppose the base but want the central government payoffs.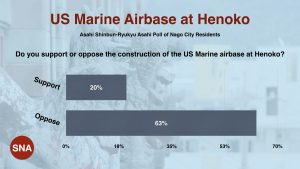 —Anti-base Okinawa Governor Takeshi Onaga also being targeted by the Abe government as he faces reelection late this year. Asahi Shinbun poll has good news for Governor Onaga as well. At least in Nago city, he's still riding very high in public esteem.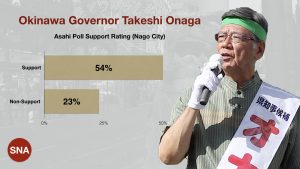 —Nago Mayor Elections: One difference from four years ago is that this time Komeito is proactively supporting the pro-base candidate. In the last election they remained neutral. This time, Kiyohiko Toyama, who is habitually aggressively conservative, is on the streets campaigning. Meanwhile, Okinawa Times polling finds Susumu Inamine with a "narrow lead" over Taketoyo Toguchi, but it's definitely a very competitive race by all accounts.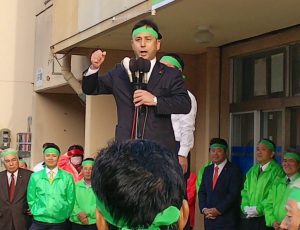 —Self-Defense Forces personnel to be deployed to US military bases in Okinawa to monitor their aircraft maintenance practices. The Defense Ministry has lost faith in the US Marines' ability to repair and maintain its own equipment after serial helicopter crash landings.
Economy
—Facebook says it will prioritize "local news." Sounds nice, but the problem is a complete lack of transparency and accountability. Companies now live or die based on the Facebook algorithm, and its not clear how and why Facebook makes its decisions.
—In wake of Coincheck fiasco, Financial Services Agency is moving to conduct cybersecurity inspections of all cryptocurrency exchanges in Japan.
—Businesses in Kusatsu town hit hard economically by volcano eruption as more than 20,000 scheduled bookings are cancelled. This in spite of the fact that the tourist areas aren't really under any particular threat.
—METI Minister Hiroshige Seko rejects suggestions that political influence played any particular role in the Pezy Computing government subsidy fraud scandal.
—Constitutional Democratic Party of Japan touring the nation with an anti-nuclear message. They are explaining in a series of town meetings their "Zero Nuclear Basic Bill." More than a dozen town halls planned as the progressive party tries to strengthen its grassroots base.
—Prime Minister Shinzo Abe confirms that Donald Trump's comments have no practical effect on his government's intention to sign the TPP 11 agreement in March.
Society
—Japan Meteorological Agency under criticism for failing to issue public warning until about an hour after Mt. Kusatsu-Shirane erupted. Apparently, they weren't at first absolutely sure what had happened, so they failed to communicate at all until they could confirm an eruption.
—Tokyo Metropolitan Government survey estimates that there are about 4,000 homeless people in the city who sleep their nights, not in the streets, but in internet cafes. Most of them work irregular jobs, including many laid off after the 2008 financial crisis who never recovered.
—Greater Tokyo area population rose by about 120,000 last year, as young people and others from the countryside continue to move to the capital to find economic opportunity and excitement. However, around 2025 even Tokyo will start losing population, according to the projections.
—NHK hands down punishments to three staff members it is holding responsible for the missile false alarm that went out on January 16, garnering global headlines after a similar, more severe false alarm a few days earlier in Hawaii.
For breaking news, follow on Twitter @ShingetsuNews