Cabinet Office Vice-Minister Self-Immolates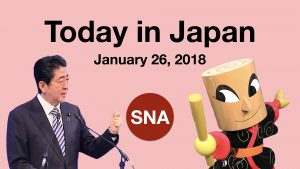 SNA (Tokyo) — The following stories were reported today by the Shingetsu News Agency.
The Top Headline
—Fumiaki Matsumoto submits resignation as Cabinet Office Vice-Minister over his heckling in the Diet of Japan Communist Party leader Kazuo Shii. When Shii asked a question about the serial US Marine helicopter accidents in Okinawa, Matsumoto yelled out: "And how many people died!" After the Diet session, one journalist asked Matsumoto, "Would it have been better had people died in the accidents?"
Politics
—The expected Party of Hope meltdown is now underway. Yuriko Koike is said to be preparing to leave the party founded as the Yuriko Koike vehicle in national politics. The rightwingers may split from the moderate conservatives. A new party name is also being considered.
—Former Chief Cabinet Secretary Hiromu Nonaka passes away at age 92.
—There is now a pretty clear trail of documentary evidence proving Nobuhisa Sagawa gave false testimony before the Diet on the Moritomo Gakuen land sale issue, but he remains in place as the head of the National Tax Agency.
—Seiji Mataichi takes over as leader of the Social Democratic Party after no other candidate appears. Party members express concern that with a new 73-year-old leader, the party isn't really going to appeal to the next generation. But how much longer can this party last anyway?
—Three local city councillors in Yamagata Prefecture resign from the Social Democratic Party, explaining, "Even after the catastrophic defeat in House of Representatives elections last October, we cannot see any movement to meet the expectations of the people."
—Former Liberal Democratic Party leader Yohei Kono: "There is no groundswell from the people asking that Article Nine be revised. Constitutions exist to put restrictions on the exercise of authority, so for those who are empowered at the top of the political system to signal that the Constitution must be revised is a very strange circumstance."
—In Diet debate, Democratic Party lawmaker Yukihisa Fujita accuses Prime Minister Shinzo Abe of using political methods similar to Nazi Germany, citing how he cloaked the Conspiracy Law as an anti-terrorism measure, etc. "Have you been studying up on fascism?" he taunted.
—Revolt against Fukushiro Nukaga spreads to the faction's younger House of Representatives lawmakers. It is expected that he can't hold on to the leadership post much longer. Likely successor is Wataru Takeshita.
International
—Marine Corps Commandant General Robert Neller on accidents in Okinawa: "There's been a lot of stuff in the news about precautionary landings of aircraft overseas. Quite frankly, I'm glad there were precautionary landings cause nobody got hurt and we didn't lose any airplane." Okinawa Governor Takeshi Onaga denounces the Center for Strategic and International Studies statements of Marine Corps Commandant General Robert Neller: "It is clear that he doesn't recognize the fears of the Okinawan people even one bit."
—Ministry of Foreign Affairs: Frank-Walter Steinmeier, President of the Federal Republic of Germany, and his spouse, Ms. Elke Büdenbender, will pay a visit to Japan from February 6 to February 7, 2017.
—In Diet debate, Prime Minister Shinzo Abe again reveals his annoyance with North Korea peace talks. "Even now the missile and nuclear weapons development is continuing… Dialogue for the sake of dialogue is meaningless."
Economy
—US President Donald Trump, "I would do TPP, if we made a much better deal than we had." This can be interpreted, of course, as meaning if HE can get credit for negotiating TPP rather than Barack Obama, then the US administration might be willing to rejoin TPP. Economic Revitalization Minister Toshimitsu Motegi indicates that US President Donald Trump's statements do not impact the current plan to sign the TPP 11 agreement in March.
For breaking news, follow on Twitter @ShingetsuNews