US Marine Helicopter Crash Lands on Tonaki Island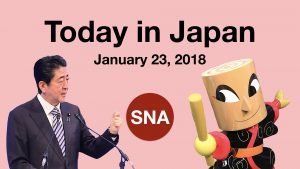 SNA (Tokyo) — The following stories were reported today by the Shingetsu News Agency.
The Top Headline
—Another US military helicopter crash landed in Okinawa at Tonaki Island, west of the main island, at about 8pm. According to a local witness, the crew is unhurt. Needless to say, the helicopter is said to belong to the accident-prone US Marines at Futenma, the source of all of the recent mishaps.
Politics
—After insisting for months in the Diet that all its records had disappeared, the Finance Ministry now admits it has some documents related to the sale of land to Moritomo Gakuen. Meanwhile, the official who repeatedly lied to the Diet is now chief of the National Tax Agency.
—Social Democratic Party decides to pass over their most junior lawmaker, Hajime Yoshikawa, and instead make arrangements for veteran Seiji Mataichi to become leader of the party. There's a leadership election, but he will likely be the only candidate.
—Constitutional Democratic Party of Japan showing its toughness. When the Liberal Democratic Party proposed giving the opposition parties about 64% of the Budget Committee question time, Kiyomi Tsujimoto refused and said it needs to go back to 80%, as it was before last autumn's Diet session.
International
—Prime Minister Shinzo Abe: "With tensions growing over North Korea, the Self-Defense Forces carried out a mission to protect US vessels and aircraft for the first time." Abe begins utilizing new powers he has claimed since passage of the unconstitutional 2015 Abe War Law.
—While Chief Cabinet Secretary Yoshihide Suga just lies (as he so comfortably does) and dismisses the mayoral election defeat in Nanjo as unrelated to US base policies, ruling party officials are more forthright. Liberal Democratic Party Secretary-General Toshihiro Nikai sighs, "A defeat is a defeat."
—Chief Cabinet Secretary Yoshihide Suga reacts sharply at news that the South Korean government is mulling the liquidation of the Reconciliation and Healing Foundation. Suga demands that Seoul implement the 2015 bilateral agreement on Comfort Women in full and without further debate.
—South Korea Foreign Ministry: "There's no final decision yet made with regard to whether to disband the Reconciliation and Healing Foundation… The government believes that the wartime sex slave issue cannot be resolved through the existing agreement with Japan."
—Constitutional Democratic Party of Japan decides to endorse the anti-base incumbent Susumu Inamine in the upcoming Nago mayoral race. Election Day is February 4.
Economy
—Obayashi Corporation President Toru Shiraishi to step down in wake of the Central Japan Railway Tokyo-Nagoya maglev bid-rigging scandal. Obayashi was reportedly the first of the four companies involved to admit guilt, thus seeking leniency from prosecutors.
—Shimizu Corporation, which initially denied that there was a bid-rigging scheme, has now apparently changed its story and is admitting guilt to prosecutors, according to the Mainichi Shinbun.
Society
—Yesterday's snowfall in Tokyo was the heaviest since the winter of 2014. We could go outside and make a snowball. If we do, should we, like US Republican Senator James Inhofe, now declare the threat of global climate change to have been decisively defeated?
—There are reports of a volcanic eruption in Gunma Prefecture, at Mt. Kusatsu-Shirane.
—The Prime Minister's Office has set up a crisis center to handle information related to the volcanic eruption in Gunma Prefecture. The reports are still a bit contradictory, but it seems about ten people were injured in the resulting avalanche, including some serious cases.
—Among the dozen or so people injured in today's volcanic eruption in Gunma Prefecture were about half a dozen Self-Defense Forces officers on a training mission. In fact, one of them was killed,  so far the only reported fatality.
For breaking news, follow on Twitter @ShingetsuNews