Abe Shuns Nobel Peace Prize Winner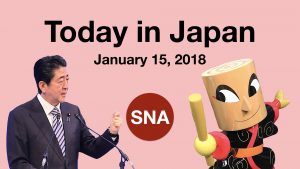 SNA (Tokyo) — The following stories were reported today by the Shingetsu News Agency.
The Top Headline
—Prime Minister Shinzo Abe has rejected any meeting with visiting Beatrice Fihn, head of the International Campaign to Abolish Nuclear Weapons, winner of the Nobel Peace Prize. This again signals where he really stands on the issue of nuclear weapons. Akira Koike slams Prime Minister Shinzo Abe for rejecting meeting with the visiting Beatrice Fihn. This from the leader of the only nation to suffer an atomic bombing.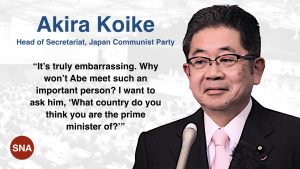 Politics
—Party of Hope and Democratic Party sign agreement to merge into a unified parliamentary caucus. This move will make them the largest opposition force in the Diet, surpassing the progressive Constitutional Democratic Party of Japan. However, they have very little public support.
—Party of Hope-Democratic Party compromise on security policy is that they will demand that the "unconstitutional parts" of the 2015 Abe War Law must be revised. Not sure what that means? No, we don't either.
—According to the latest JNN poll, Party of Hope (0.6%) and Democratic Party (1.2%) have a combined 1.8% public support rate. They are about to displace the Constitutional Democratic Party of Japan as the leading opposition party in the Diet, though the progressive party has about six times their combined support.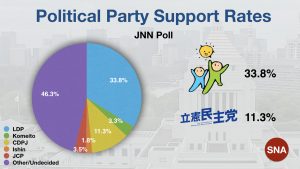 —The House of Councillors lawmakers of Party of Hope are letting it be known they oppose forming a united parliamentary caucus with the Democratic Party. The rebels against the agreement are Kuniko Koda, Kyoko Nakayama, and Shigefumi Matsuzawa.
—Within the House of Representatives, Katsuya Okada of the Democratic Party and Goshi Hosono of Party of Hope are also said to be vociferously opposed to the creation of the united parliamentary caucus.
—Party of Hope may lose all three of its lawmakers in the House of Councillors over its decision to form united parliamentary caucus with the Democratic Party. Talks are underway between the party leadership and the aggrieved upper house lawmakers.
—A handful of lawmakers led by Shigefumi Matsuzawa may leave the Party of Hope and join hands in some fashion with the Japan Innovation Party.
—Seiko Noda reiterates that she wants to run for Liberal Democratic Party leadership post this September, despite her current status of being a minister in the Shinzo Abe Cabinet. It does appear that Abe will face intra-party challengers this year.
International
—With their eyes no doubt on the Nago mayoral election, Komeito makes direct appeal to Chief Cabinet Secretary Yoshihide Suga to force the US Marines to temporarily suspend helicopter in Okinawa. Suga is polite, but sounds like he won't do anything.
For breaking news, follow on Twitter @ShingetsuNews