Abe Taking Control of Military Procurement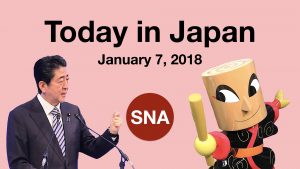 SNA (Tokyo) — The following stories were reported today by the Shingetsu News Agency.
The Top Headline
—Shinzo Abe concentrating yet more power in the Prime Minister's Office. From this year he will start telling the Self-Defense Forces what kind of military equipment they should be buying, not waiting for the Defense Ministry to make its own budget requests.
Politics
—Constitutional Democratic Party of Japan leader Yukio Edano goes on NHK and demands the resignation of Nobuhisa Sagawa, the former Finance Ministry official corruptly appointed National Tax Agency after lying repeatedly to the Diet about the Moritomo Gakuen Scandal.
International
—Donald Trump makes a confusing series of comments to reporters about North Korea that are hardly worth analyzing. He says he's willing to engage in direct talks, but there would be "conditions" that he doesn't specify. Don't bother your brains, folks! It means absolutely nothing.
—Donald Trump goes peak Fredo Corleone: "Actually, throughout my life, my two greatest assets have been mental stability and being, like, really smart… I went from VERY successful businessman, to top T.V. Star….. to President of the United States (on my first try). I think that would qualify as not smart, but genius….and a very stable genius at that!"
—Okinawa Vice-Governor Moritake Tomikawa comments on latest Futenma Marine helicopter accident: "I'm speechless. The frequency is too often. It cannot be helped but to think there's a systemic problem within the US military."
—Koichiro Nakajima, director-general of the Okinawa Defense Bureau, meets the leaders of the Ikeijima residents' association to calm them down after the latest US Marine helicopter emergency landing. The island's resident demand Marine flights not cross through their airspace.
—Mayor Toshio Shimabukuro of Uruma city protests to the Okinawa Defense Bureau about the US Marine helicopter's emergency landing on Ikeijima, which is administratively part of his city. Mayor Shimabukuro warns, "There will be a catastrophe, in the end."
—One week later, Prime Minister Shinzo Abe finally has a nice thing to say about the North Korean peace initiative. He says "welcomes" the idea of North Korea participating in the Pyeongchang Winter Olympics. At the same time, Abe warns pressure on Pyongyang must be maintained.
Economy
—Constitutional Democratic Party of Japan firming up its plan to submit its own "Zero Nuclear Basic Bill" which calls for Japan to go non-nuclear before 2030 and includes principle of economic assistance for industry and communities negatively impacted by an end to nuclear power.
—Leaders of Party of Hope and the Democratic Party signal they might throw their support behind the Constitutional Democratic Party of Japan's "Zero Nuclear Basic Bill." Former Prime Minister Junichiro Koizumi is another possible ally, but it's not clear how active he will be.
For breaking news, follow on Twitter @ShingetsuNews