Today in Japan (12.11.17)
SNA (Tokyo) — The following stories were reported today by the Shingetsu News Agency.
Politics
—On December 20, the Liberal Democratic Party is planning to issue a "concept paper" on its proposals to revise the Constitution.
—Next Wednesday the Democratic Party is expected to release an "interim report" on how to rebuild the party after the devastating weeks of the second Maehara era and the general elections.
—Kazuo Shii tries to set the record straight on the Japan Communist Party's alleged "anti-Americanism."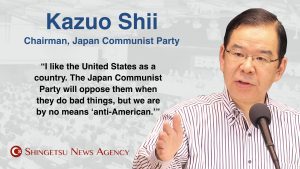 —Yoshifu Arita formally applies to resign from the Democratic Party. The leaders of the centrist opposition fear that other progressive House of Councillors lawmakers may follow him into the Constitutional Democratic Party of Japan.
—Democratic Party Secretary-General Teruhiko Mashiko laments Yoshifu Arita's decision to leave the party; says he wants to make the Democratic Party into an organization that people won't want to ditch. Meanwhile, at national and local level the party is barely holding together.
—Rightwing Party of Hope lawmaker Jin Matsubara invited to the Kantei to discuss North Korean abductee issue with Prime Minister Shinzo Abe. It's unusual procedure for an opposition lawmaker to be allowed to make proposals directly to a prime minister.
—Former Defense Minister Tomomi Inada reactivates her rightwing political group and declares that "as an attack politician" she will carry forward with her mission, of which the current priority is to revise the Peace Constitution.
—According to the latest Yomiuri Shinbun poll, Prime Minister Shinzo Abe's Cabinet has returned to a pretty strong support rating: 53% approval vs. 36% disapproval.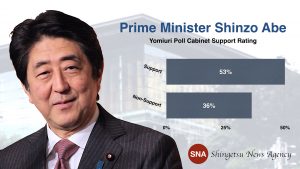 International
—Foreign Minister Taro Kono welcomes the Iraqi government's declaration that ISIS has been defeated. He says that Japan's economic support to Iraq will continue.
—In Oslo, Hiroshima Mayor Kazumi Matsui denounces Abe government's defense strategy and declares, "It's an illusion to believe that we are protected by nuclear weapons."
—Defense Ministry makes request for additional 730 million yen (about US$660 million) in FY2018 budget to obtain Aegis Ashore anti-missile system from the United States.
—ICAN head Beatrice Fihn states as she receives Nobel Peace Prize for her group's efforts to ban nuclear weapons: "The only rational course of action is to cease living under the conditions where our mutual destruction is only one impulsive tantrum away."
Economy
—Obayashi Corporation offices raided by prosecutors over possible bid rigging in connection with Central Japan Railway's Tokyo-Nagoya-Osaka maglev mega-project.
Society
—Kobe prosecutors charge editor Yoichi Yamada of Jimmin Shimbun with fraud. Tomorrow evening the newspaper's supporters are planning a demonstration against the "unfair detention."
Note: There was no separate "Today in Japan" report issued on December 10, 2017.
For breaking news, follow on Twitter @ShingetsuNews