Today in Japan (12.04.17)
SNA (Tokyo) — The following stories were reported today by the Shingetsu News Agency.
Politics
—Japan Communist Party leader Kazuo Shii says his party will continue to be willing to withdraw candidates from single-seat constituencies to help allied parties, but will not do so without a policy accord with those allies.
—The Japan Communist Party leadership has decided that they need to strengthen their efforts to engage on social media platforms. They are trying to move their focus from early postwar generation and more towards younger Japanese.
—The Japanese public is totally not buying it. Only 10% of the people find credible Prime Minister Shinzo Abe's explanations about the sale of public land to Moritomo Gakuen at steep discount price.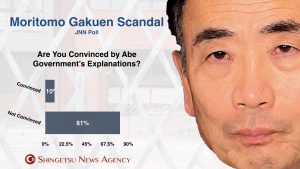 —The Constitutional Democratic Party of Japan and the Rengo labor union federation agree to hold regular meetings.
International
—The US military is stepping up military exercises around North Korea, including the use of stealth aircraft. Pyongyang responds: "It is an open, all-out provocation against the DPRK, which may lead to a nuclear war any moment."
—US Republican Senator Lindsey Graham says "pre-emptive" war on North Korea may soon become the Trump government's policy. He calls for wives and children of US soldiers in South Korea to begin returning home to the United States.
Economy
—Abe government mulling the idea of trying to build new nuclear power plants, as opposed to merely trying restart current ones that remain offline.
Society
—Ghost Ships: Four more decomposed bodies, presumed to be North Koreans lost at sea, found along Japanese shores. This time they appeared in Yamagata Prefecture.
For breaking news, follow on Twitter @ShingetsuNews