The Sudden Fall of Renho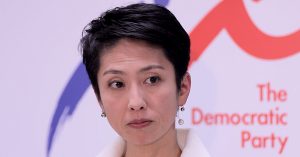 SNA (Tokyo) — Renho, the fresh and charismatic politician who took the reins of the leading opposition Democratic Party last October, unexpectedly fell from power after less than ten months, even as the Abe government itself seemed on the verge of imploding.
For weeks there had been debate and different signals about how the Democratic Party should handle its very poor showing in the July 2 Tokyo Metropolitan Assembly elections. It had been telegraphed that Secretary-General Yoshihiko Noda would resign to take responsibility for the loss, mainly in order to protect Renho and give her another chance to right the ship as party leader. Then it was denied that Noda would resign. Then it was reported again. Then denied again. Finally, Noda announced that he would indeed be resigning.
By that point, however, another large problem had surfaced. A Democratic Party lawmaker brought into the mainstream the rightwing attacks against Renho that her nationality status and, by association, her loyalty to the Japanese nation was suspect. This lawmaker suggested that these nationalist doubts about Renho could have been at the root of the party's failure in the Tokyo local elections.
Remarkably, most other Democratic Party lawmakers declined to publicly defend their party leader against such a vicious attack, and Renho herself also took the strange decision to acknowledge the argument and to announce that she would make public all the key information about her family registry and nationality status. She had hoped that by being fully transparent it would disarm the accusation and allow the party to move on.
Again, remarkably, there was no effort at all to go on the political offensive, to condemn the racist dogwhistles that the political right was engaging in by questioning Renho's nationality and her loyalty. The agenda for the debate was being set by the racist right, and the Democratic Party was defending itself quite feebly.
That may have been simply the last straw. In her year in authority, Renho had completely failed to set any comprehensible policy direction for the leading opposition party. In large part, this reflected the fact that the party was almost equally divided between liberal and conservative wings with policy views all over the map. But it also reflected Renho and Noda's not-very-successful strategy of remaining neutral in most of these intra-party struggles. By this point, they were under siege from almost all sides within the party, none of which felt that they had allies in the leadership.
It all came to a head quickly and unexpectedly in a party executive meeting on July 27. Reportedly, when Renho suggested a new candidate to replace the resigning Noda as party secretary-general, the executives balked, unwilling to endorse her candidate. By the end of the meeting, Renho was forced to resign as party leader. She hadn't seen it coming.
For breaking news, follow on Twitter @ShingetsuNews